Lisa Voyager is a system solution for the entire business travel-Worklfow - from the travel request with (multi-level) approval procedures to complete travel accounting.
Whether it concerns domestically or abroad trips - with lisa Voyager you document any kind of working hours outside the company and settle the incurred costs easily and precisely. Especially comfortable is there the automatic update of foreign exchange rates based on the data of the German Bundesbank.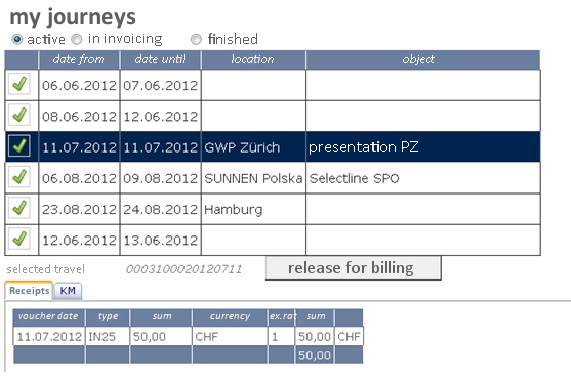 In combination with other lisa modules as lisa time and attendance or project time recording arising plausible and effective processes with internally consistent data for both employees as well as for billing itself.
For the employee and the supervisor Lisa Voyager is based exclusively on web functionality today, ie, the application can be used without any installation on any PC with access to the lisa Intranet Server.
By pressing a button you get various evaluations, eg. about the travel activity of an employee within a specified period or even a summary of the annual travel expenses of your company. The system automatically archives the data by Year.